DPM Code Reader-ID3000 Series
Direct Part Marks (DPM) are codes, symbols, and text that are etched or printed directly onto the surface of a part instead of affixed by a label. DPM codes, which are most commonly Data Matrix or QR codes, are used for track and trace purposes in a variety of industries, particularly automotive and electronics manufacturing.
The benefit of DPM codes is that they are permanent and cannot be easily removed, obscured, or damaged.
DPM codes are also a popular choice for parts with textured surfaces (label will not stick) and very small parts (label will not fit). Because DPM codes last as long as the part itself, the piece can be identified easily identified throughout its entire lifecycle, also known as "cradle-to-grave" traceability.
However, DPM codes can be extremely challenging to read due to poor contrast, so finding a DPM code reading solution is essential for reliable identification. There are also additional factors, such as the surface that the code is being printed on. A curved or uneven surface will be more difficult to read a barcode from than a perfectly flat surface. Highly reflective surfaces are likewise difficult to read, unless a small textured patch to reduce glare is added for the barcode to be printed on. In any event, most direct part marking codes require advanced image-based readers in order to be scanned and read properly.
As we all know, DPM barcode reader is a key module of machine vision system, defect detection system, logistics, Electronic manufacturing,Automobile manufacturing and other industrial applications. Due to the different specific requirements for scanning accuracy, distance and speed, accurate modulation is required before purchase.
As a distributor of HikRobot,the branch of famous CCTV company HikVision all the world ,SICUBE is committed to providing a high-precision, durable and robust scanning module for industrial use.
ID3000 series
A compact and fixed industrial barcode reader, based on an embedded deep learning platform, with a modular design. It has excellent code reading effect, coupled with IP67 protection level. In addition, it can be widely used in industrial automation code reading scenes.The ID3000 series integrates a professional deep learning system chip (Soc), which has powerful computing power and lower energy consumption ratio. ID3000 series not only has a high-speed recognition efficiency, but also has the stablerecognition ability for label paper and DPM barcodes of different materials.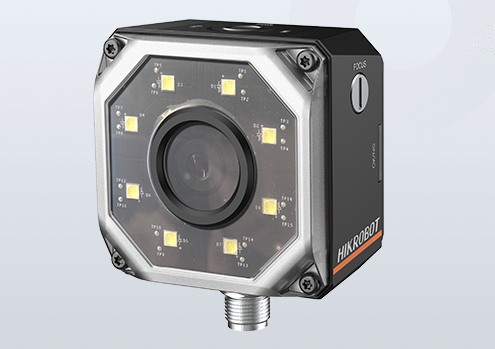 ID3000 series is designed with multiple sets of indicator lights, so that people can quickly know the product status. The top ring indicator is equipped with a waterproof button, and the side reading result indicator can be visualized in real time from multiple angles.

Key Feature
Adopts built-in deep learning algorithm to read codes with good robustness.
Provides focus knob to adjust focal length manually.
Adopts multiple IO interfaces for input and output signals.
Supports multiple communication protocols, including TCP, Serial, FTP, PROFINET, HTTP, etc.
Adopts CMOS sensor to acquire image data and provide high-quality image.
Supports indicators displaying device status.
Dimension
Model lists of ID3000 Series